Domestic Roller Garage Doors are typically used on your household garage protecting your car, garden equipment and other valuables from the weather and offering safety and security. Our doors come with or without electrical remote control. All standard Domestic Garage Doors come with a colour warranty against fading and peeling.
You may also be interested in Insulated garage doors.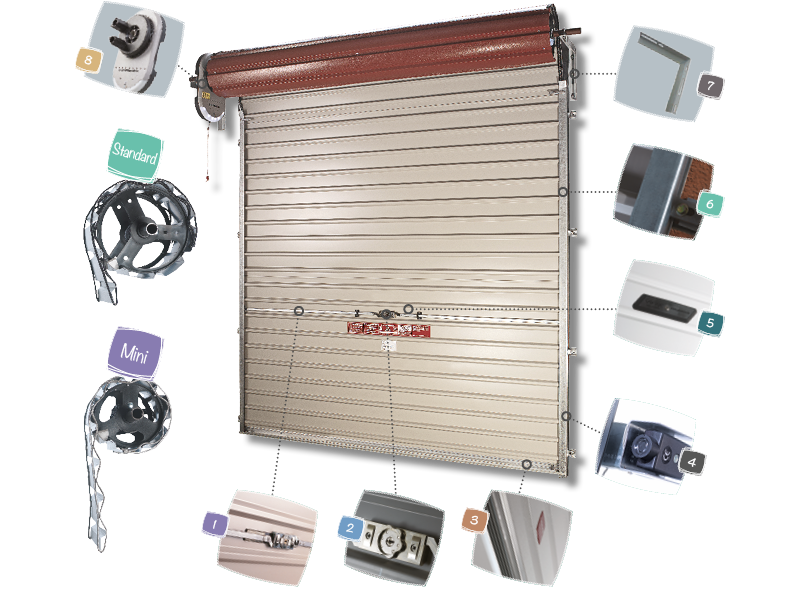 Domestic Garage Doors Features
Lock Bars
Manual doors are held in the closed position via dual lock bars that engage within the steel guides.
Enhanced Security
Highly pick resistant steel lock barrel mechanism as standard on each DuraRoll steel roller door.
Bottom Seal
Robust rubber bottom seal secured in a corrosion resistant aluminium profile.
Photo Eyes
Non contact photo eyes are an optional safety feature. Once the infrared beam is broken the door automatically reverses providing additional safety.
Lock Handle
All DuraRoll steel roller doors are supplied with a handle and lock as standard.
Steel Guides
The door curtain is protected with reinforced nyloflex webbing that ensures smooth running and is secured within full length steel guides.
Welded Brackets
DuraRoll support brackets are substantially stronger than other doors – thicker steel and welded joints ensure strength and a powder coat finish neatens their appearance.
Automation
All single skin roller doors including the mini can easily be automated with the LiftMaster LM650 side mount motor.
Sentry Guard

Made with 0.5 gauge thick steel for extra strength.
Manual option has solid lock rods and a metal lock body making it extremely secure.
Automated option is held closed by positive force and includes Evolution technology for secure operation and peace of mind.

Weather Shield

Bottom weather seal that compresses against the floor to help keep out draughts and debris.
Guide tracks fit behind the garage opening and enclose the door curtain to help reduce draughts.

Safety Sure

CE marked for safety and tested to the latest European safety legislation.
Force sensing automation stops and reverses on detection of an obstruction.
Lifting spring is out of reach within the door barrel.

Smart Touch

Available with the world's number one remote control motor from LiftMaster TM.
LED courtesy light.
Reliable and secure – holds the door closed by positive force and includes Evolution technology for secure operation AND peace of mind.

Extra Easy

Fitted behind the garage opening, it adds up to six inches of drive through width.
Vertical travel means the door has no "kick-out" and enables you to park right up to the garage door inside and out.
Spring assisted opening means manual opening is smooth and easy.

Dura Shield

High grade materials and durable low maintenance finishes.
Deeper guide tracks and 0.5 gauge steel door curtain add strength and better resistance to minor everyday knocks and bumps.

Designer Style

Broad profile ribs are patented and unique to GDS. Deeper ribs suit a domestic setting better than narrow 'industrial' rib designs.
Great choice of low maintenance, wipe-clean Plastisol colours.

Space Saving

As the curtain rolls neatly up behind your garage lintel there are no tracks inside your garage providing additional space and "park right up" convenience