Domestic Insulated Roller Doors
This is a 77mm insulated panel door, 12mm thick two layers of aluminum with internal insulation. They are very well sealed on all four sides.Comes with electric motor and remote control with a wide range of colours as standard.
Click here if you are interested in non-insulated doors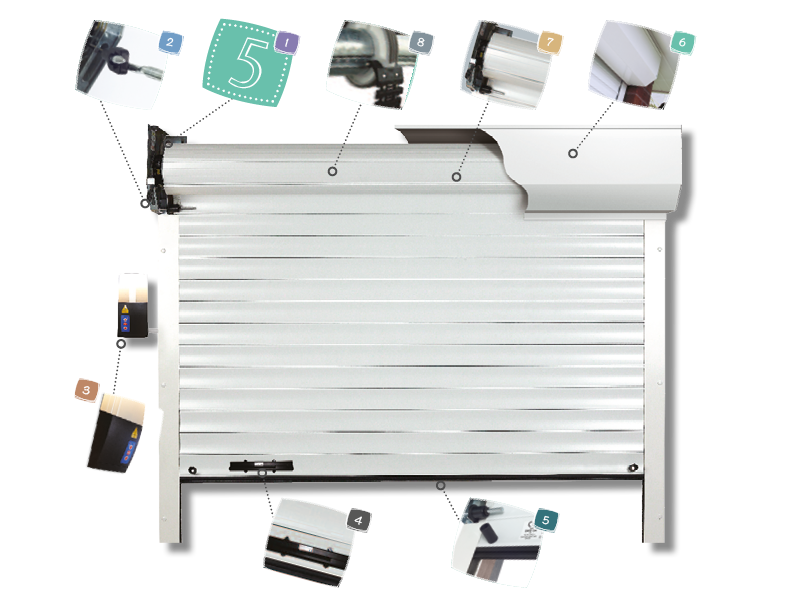 Reliability
A five year warranty covers the motor unit and the door system – peace of mind comes a standard!
Manual override
If power fails a simple hand crank allows the door to opened by hand.
RollSafe 868 technology
The RollSafe control unit uses cutting edge technology to control the door safely and with the option of wired or wireless safety systems.
Safety sensing
Every door has a safety sensor built into the bottom weatherstrip that stops and reverses the door a short distance on detecting an obstruction.
Maximum weather protection
Our insulated garage door is engineered to help block cold draughts and keep your garage warm and usable with guide rails that are lined and a shaped rubber seal on the bottom slat.
Box options
Our insulated garage door can be ordered with either full, half or no box options.
Space saving
The door curtain rolls tightly above the opening without the door or tracks projecting inside your garage leaving more storage space in the garage for you.Our insulated garage door requires just 300-350mm of headroom.
Proven durability
The insulated curtain is held in place with the robust 89mm axel and steel reinforced autolock system, ensuring excellent performance and security.
Sentry Guard

Fully automated – with no lock to pick this makes the door a great deterrent to intruders.
Smart transmitters generate a new code every time preventing cloning or code "grabbing".
Optional alarm available.

Weather Shield

Insulated foam filled slats.
Side guides are lined to help keep out draughts.
Bottom rubber seal closes against the floor to help keep out debris and draughts.

Safety Sure

CE marked for safety and tested to the latest European safety legislation.
Automatic sensing detects obstructions and the door remains in a safe state until the obstruction is removed.

Smart Touch

Remote control operation with a choice of stylish transmitters.
Where no hand transmitter choice is specified two Ellipse chrome 4 button transmitters will be supplied as standard (shown right in the image).

Extra Easy

Fitted behind the garage opening, it adds up to six inches of drive through width.
Vertical travel means the door has no "kick-out" and enables you to park right up to the garage door inside and out.
A remote control means opening is as easy as a touch on a button.

Dura Shield

Five year peace of mind warranty.
Motor, control and door are all covered, finishes have a ten year (foil woodgrain) and five year (factory finished solid colours) warranty respectively.

Designer Style

Factory finished solid colours and wood effect foil finishes create a classic design statement on any home.

Space Saving

As the curtain rolls neatly up behind your garage lintel there are no tracks inside your garage providing additional space and "park right up" convenience