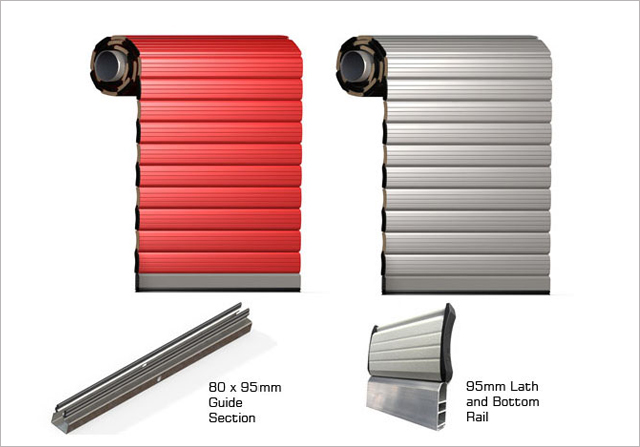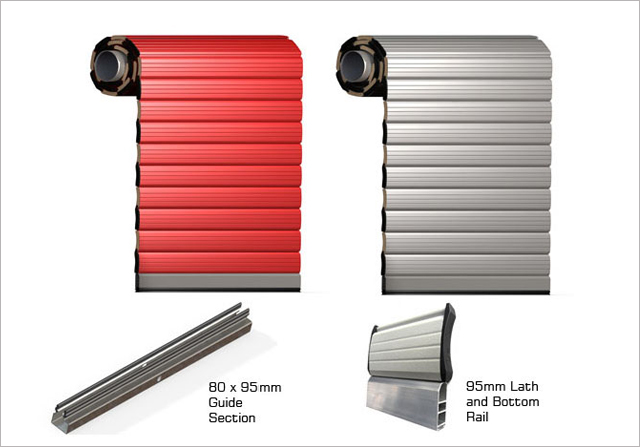 Use of plastisol coated steel ensures long lifespan and very good antiscratch/wear properties.
With a one piece lath the PU insulation is bonded to the outer skin ensuring a very strong lath.
The design of our lath ensures that the profile rolls into a much smaller roll than other two piece laths, which is good news for applications where space is limited.
We have available a extruded bottom slat with rubber extruded profile to seal the door to floor.
A unique extruded aluminium profile for attaching the top lath to the barrel is of great benefit, it allows a bolt to be welded to tube and the extruded profile conceals the head of bolt to avoid damaging the laths when rolling around the tube.
95mm side guides are also produced by ourselves which have holes pre-punched for fitting and two plastic extruded brush carriers are pushed onto the profile to ensure a very quiet operation.
Standard plastisol colours will be available but special colours can be produced subject to minium quantities.