No.1 for features, No.1 for quality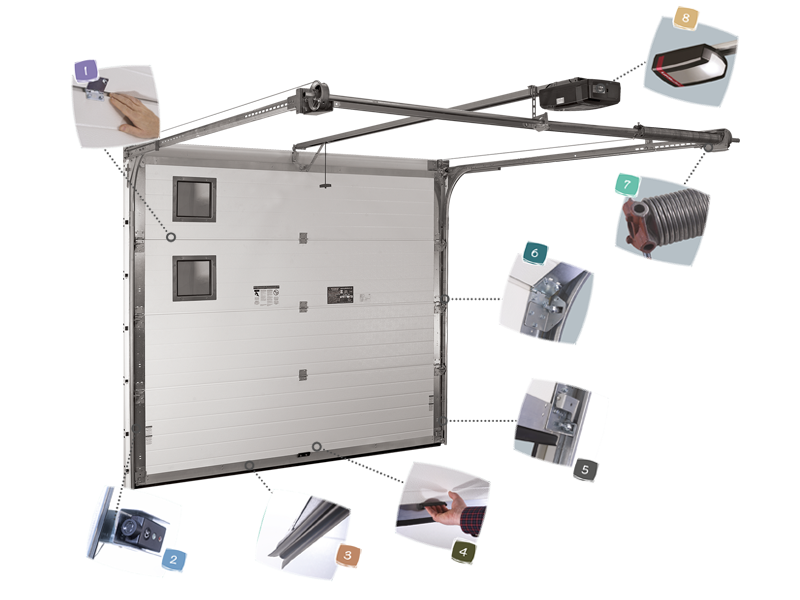 Interior & Exterior Pinch Resistant
The patented anti-pinch panel design protects fingers from becoming trapped in joints during operation.
Photo Eyes
Non-contact photo eyes are an optional safety feature. Once the infared beam is broken the door automactically revcerses providing additional safety.
Full Perimeter Seals
Ensures the door is completely sealed when closed and providesoptimum insulation & draught proofing. The floor must be level to help assist against water ingress. It is not possible to guarantee a complete seal.
Handle
A simple internal handle can be used to lift the doorin manual mode.
Anti-Drop
All Insulated sectional garage doors are protected with an anti-drop technology that prevents the door from falling should you ever experience a spring or cable failure.
Roller Hinges
The side hinge rollers ensure the smooth running of the panels within the robust track.
Torsion Spring
All GDS sectional garage doors are supplied with our robust galvanised torsion spring assembly. Torsion springs provide reliable assisted lifting and each spring is calculated to minimum of 15,000 cycles.
Remote Control
All Insulated sectional garage doors can be automated from our wide range of LiftMaster sectional garage door openers providing additional safety, security, and convenience.
Sentry Guard

Solid "wall", held in place by multiple rollers and full length steel guide tracks.
Automated doors are held closed by positive force and includes evolution technology for secure operation
Manually operated doors have double locking points secured to heavy steel guides.

Weather Shield

Built to keep the weather out.
42mm (35mm on Coach House doors) panels provide excellent thermal performance.
Weather seals to the floor, side and top helps keep out draughts and rain.

Safety Sure

CE marked for safety.
Fingertrap prevention joints and hinges.
Force sensing automation stops and reverses on detection of an obstruction.
Anti-drop systems that halt the door should a lifting cable or spring fail.

Smart Touch

Available with the world's number one remote control motor from LiftMaster TM.
LED courtesy light.
Reliable and secure – the motor unit acts as a positive lock to hold the door closed.

Extra Easy

Fitted behind the garage opening, it adds up to 150mm (6") of drive through width.
Vertical travel means the door has no "kick-out" and enables you to park right up to the garage door inside and out.
Spring assisted opening means manual opening is smooth and easy.

Dura Shield

Built to last! High grade materials and durable finishes.
Strong steel hinges and torsion springs.
The thick insulated panels are strong and robust.

Designer Style

Available in a range of designs and a rainbow of colours.
A striking selection of window options is available to bring light into your garage with opaque or clear glazing.

Vertical Operation

The vertical operation of our sectional garage door range enables you to utilise all the space on your driveway.
Let the light in!
Add a touch of individual style & elegance with our glazing options. We offer the widest choice of window options with no extra lead time enabling you to create a bespoke look that lends itself perfectly to your home. Assembled with Toughened Safety Glass (Glass ABS 6206: 1981), our obscure windows allow light to enter your garage without compromising security.
Decra Trim
Decra Lead
Stainless Steel Window Options